Patient Feedback
"FA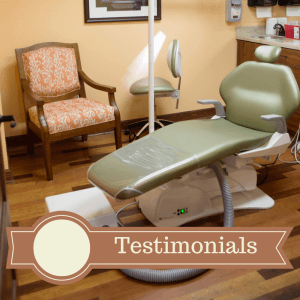 NTASTIC! I can't say enough about the staff. The dentist isn't my favorite place, but they were so welcoming, so thorough, professional, warm, energetic.. (Even at my 7am appointment! Haha.) Dr. Verga was so sweet and Ashley was awesome and explained EVERYTHING to me. I will recommend to any and every one! They are terrific."
~Heather G.

"Words cannot express the professionalism and friendliness of this awesome practice! Dr. Valentinas was beyond helpful and treated you like family, not a number! I would recommend this practice to anyone!"
~ Luis C.
"Fantastic people, very professional. Dr. Knowles took such great care of my 4 year old son who had to get a cavity filled. She put him at ease immediately!"
~ Katie U.
"From the moment you call, you will feel welcomed! We walked in, my mother and I, for our initial visits, this was a new dentist/office for both of us and what an AMAZING experience. Many people have high anxiety walking into any dental office, Crabtree will instantly set your mind at ease.  You walk into a Zen-like ski lodge and are greeted at the front desk by a friendly and professional associate who is wonderfully helpful.  Sit in one of their cozy seats and fill out your paperwork, just moments later you are escorted by one of their many Dental Hygienists to start your treatment.  Now here is where it got even more impressive!  I was so amazed at how thorough she was, full health history, additional specifics on dental health, measuring bone length on every tooth, x-rays, she even took my blood pressure!  Originally I thought it was because I had not been to the dentist in a bit or because I have braces, but my mother, meeting with and entirely different hygienist, had the same incredibly detailed and thorough experience! After all of the health history she began the cleaning and she worked hard, having to go around every bracket on each tooth due to the braces. Once complete I met with the dentist, again so incredibly impressed she offered to speak with my Orthodontist in NY to develop a cohesive treatment plan while in braces. She thoroughly examined everything including doing an oral cancer screening, checking for any unusual lumps or bumps and noting any unusual dry spots on my skin to watch. I have never, ever had such a thorough and pleasant experience at the dentist. Pleasant and Dentist just did not belong in the same sentence…until now. I would HIGHLY RECCOMEND CRABTREE VALLEY DENTAL!  Wow, just WOW! Thank you all so very much!"
~ Laura P.
"I drive from Charlotte NC to Raleigh to have dental work done by Dr. Wirick because I love his professionalism, kindness, the beauty of the office, the friendliness of the staff and the ability to get an appointment when I need, which is sometimes a short notice…I highly recommend this office."
~ Stephanie D.
"Extremely knowledgeable and friendly staff! The office is very clean and well decorated. I hadn't been to a dentist in a while, but I felt right at home here! Definitely worth checking out."
Justin J.
"Very friendly staff, great location, and lovely facility!"
~ Kristy R.
"I haven't been to the dentist in a very long time, so it was time for a checkup. I was very reluctant to go to the dentist, but the team at Crabtree Valley Dental was very detailed about the procedure. Basically, they were great."
~ Rob M.
"Great staff and dentists! From the minute you walk through the door until you walk out you're treated with kindness and respect. I would highly recommend!"
~ Morgan B.
"Fantastic! I mean Fantastic! DrWirick and his assistant Christina were perfect in every way. First, I went in to have 5 cavities filled. That was already TRAGIC. So I was terrified, I was going to ask if they could just put me to sleep lol. But when I was greeted by Christina, she answered all of my questions and her kind voice and caring demeanor settled my fear. Dr. Wirick came in with a huge smile, and friendly face, and literally talked to me, and ensured I was comfortable the entire time. The room was filled with TVs and music for entertainment, but I focused on Dr. Wirick and Christina for peace of mind, because they made me feel safe. I walked out of there with near perfect teeth and now I tell EVERYONE about them. Crabtree Valley Dental is a premier dentistry, and Dr. Wirick and Christina delivered their promise of satisfaction. Thank you so much."
~ Prem W.
"Have been going to Crabtree valley dental for 2 years now and love it! From the ambiance that makes you feel at home to the TV you can watch while getting your teeth worked on! By far the nicest dentist I have ever been too! Can't wait to bring my little ones here one day!"
~ Naomi K.
"A nice, kind, friendly folks & they are also very accommodating. The building is a very pleasant & Upgraded atmosphere. I never had seen or have been inside of dentist office quite like this. Its like visiting someone in their ritzy home."
~ Steve G.
"Super friendly staff and state of the art dental practice. They explained everything all along the way so I'd know what to expect."
~ Joy I.
"I'm so glad I found Crabtree Valley Dentist. Very good dental team they have. Beautiful office and very comfortable. Highly recommend. If you're in need of dental work,these are the people to go see. "
~ Duke H.
"The people are nice, the place is nicely decorated, and it has complimentary child care! My whole family goes here now and I couldn't be more pleased."
~ Jessica B.
"Every person who works there is so friendly and nice. I have anxiety and told them that. And they were so reassuring and nice. I wasn't anxious at all! The building is so nice and clean! They also have a little area for drinks (coffee, water, etc). I will be coming here from now on! Wonderful!"
~ Lisa S.
See More Reviews