Patient Feedback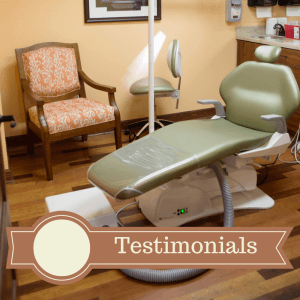 "The BEST experience at a dentist one could possibly ever have! From the moment we walked in we were welcomed by everyone there. Small touches were all around; from electronic signs greeting us in the hygienists' rooms to the fresh baked cookies at the checkout desk. The waiting room was furnished with super comfortable chairs and sofas and coffee, tea, and water were provided. There is not one thing I could ask them to improve on! I am so excited to have found a practice this amazing!" – Kirsten B. 
"I highly recommend Crabtree Valley Dental. They are friendly and very helpful. The facility is clean and they follow strict CDC safety guidelines. I was given an appointment within the same week I called. I was very impressed with the way they handled my evaluation and dental assessment. I do not think I have to look anywhere further for all my dental needs."  – Janette C.
"This is probably one of the if not the best visit to the dentist I've ever had where they made you feel at home and comfortable it was affordable and also had a manner of professionalism along with it that was outstanding I cannot wait to go again thank you for fixing my teeth." – Joshua K.
"Super impressed with the treatment and how thorough they are! Will be making them my new dental practice." – Mady B
"Quick and always professional. Their handling of COVID-19 pandemic is top-notch. I wish every business was taking the steps you are to ensure patient and employee safety."  – Cameron S.
"Experience has always been professional and courteous. If mistakes were made, they worked with me to remedy them." – Charles H.
"This is the most friendly, caring dental practice I've spoken to. The reception greeted me promptly on the phone and very friendly. I can't wait for my appointment!" – Emily A.
 "My doctor spent a lot of time explaining all my options for treatment so that I could make the best decision for myself. Have never enjoyed the dentist…but if you have to go, this is the place." – Emilee V.
"This is the place to go! Hands down! We've been going to this office for a couple of years now and couldn't be happier with the experience. The staff is all super-efficient and friendly. The design of the building is unbeatable. Who else can say they go to a lodge every time they get their teeth cleaned? Can't recommend this place enough!" – Sarah K. 
"I love my dentist office!!! The staff is very nice and professional. I would recommend them to everyone. I feel they are taking really good care of me and I love how knowledgeable they are." – Lisa M. 
"I loved the beautiful and relaxing environment, friendliness of the staff, and the time they took to explain the care I would be receiving. They made what many consider an unpleasant experience as lovely as possible. I especially liked that they took very clear, enlarged photos of the teeth that needed care. It helped me to objectively see the damage and not have to just trust their opinion. By far the best dentist visit I've ever had. And they had free coffee and cookies." – Rachel G.
"My first two visits were great! Aesthetically pleasing from the inside out, but more importantly, the entire staff is friendly, welcoming, and accommodating. The environment is stress-free and warming the entire visit. So glad that I chose this dentist office after moving to Raleigh."      – Tiahna G. 
"I am 63 years old. I've been to lots of dental offices in my years. Many different dentists, many different assistants, office staff, and so on. I always know I will be treated with respect at CVD! My concerns are always heard and between all of us there we come out with a great decision on my treatment." – Tim H. 
"My husband and I love Crabtree Valley Dental. They are amazing!!! The staff made me feel so very comfortable and calm. They did an amazing job. Thank you so much! Crabtree Valley Dental is the best in North Carolina.  Your whole team is awesome! Thank you again."   – Cynthia B. 
"Today was my family's first visit! From the front desk to the hygienist, to the assistant to the staff we passed in the hallway, everyone was friendly. When we walked through the front door our first names were displayed as new patients. They took their time to make sure that we understood everything. They cared about what was important to us. They even asked how we would rate our smile. We have found a dental home!" – Donya E. 
"This dental team is awesome. My wife was super anxious to have an emergency procedure, but from the moment you walk in the door, there is a warm, inviting staff ready to put you at ease. I don't remember experiencing such care and professionalism wrapped together. Thank you for your excellent care for my sweetheart. Highly, highly recommend this clinic. We'll be back!" – David W. 
"The staff was very welcoming. I thought it was a nice touch how they gave me, a first-timer, a tour. Also, the exam room had a dental goody bag waiting for me and the "Welcome" with my name on the computer screen was an AWESOME touch to make me feel comfortable and appreciated. The x-ray tech, Angela, and Dr. Joy were very personable and explained everything in detail. I hope all my visits will be like that."      – Tee Y. 
"Every person who works here is so friendly and nice. I have anxiety and told them that. And they were so reassuring and nice. I wasn't anxious at all! The building is so nice and clean! They also have a little area for drinks (coffee, water, etc.). I will be coming here from now on! Wonderful!"– Lisa S.
"Great staff and dentists! From the minute you walk through the door until you walk out you're treated with kindness and respect. I would highly recommend!" – Morgan B.
See More Reviews