Each year at the beginning of March, we celebrate National Dentist Day. It's a time to take a moment and recognize the hard-working people that put smiles on so many faces. We've got a fantastic group of dentists that we'd like you to get to know better! Keep reading to learn more about Dr. Wirick, Dr. Hop, and Dr. Joy.
Crabtree Valley Dental Dentists
Dr. Matthew Wirick, D.D.S.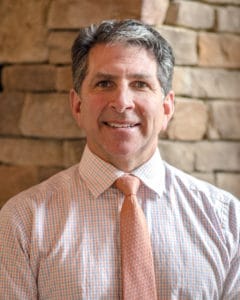 Dr. Wirick is the founder of Crabtree Valley Dental, a dentist with a career spanning over 20 years. After graduating from The Ohio State University, he moved to North Carolina to begin his career. After running 2 successful offices, he strived for something more. He opened Crabtree Valley Dental in 2015 as a culmination of his vision to care for his patients as a whole, treating each one like family. The guiding principle of his vision is "Servant Leadership". He strives to go above and beyond for both his patients and his staff each and every day.
At the office, patients can expect to have nearly any of their dental needs addressed under one roof. Dr. Wirick has brought in state-of-the-art technology, like Identafi and Cerec, to give his patients the latest and greatest in oral health care. Identafi is an oral cancer screening device and Cerec is a device that conveniently produces crowns the same day as your visit.
Dr. Wirick also has the health and safety of his patients and staff at the top of his mind. He's installed a Reme Halo air filtration system that purifies the air from particles, microbes, and gases, including COVID-19 to help you breathe easier on your next visit.
Outside of the office, Dr. Wirick loves to spend time with his wife and 4 children. He also loves to read dental, business, and spiritual books. Some of his favorites are The Servant, E-Myth, and The Circle Maker.
Dr. Matthew Hopfensperger, D.D.S., M.S.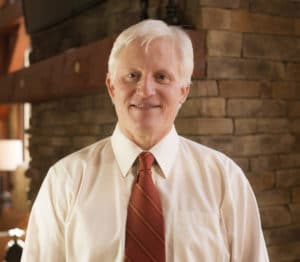 We're extremely proud to have "Dr. Hop" on our staff! He brings over 2 decades of experience specializing in dental implants, reconstructive/advanced restorative, and esthetic dentistry.  Dr. Hop was the former head of implants at UNC School of Dentistry and was a member of the UNC Department of Prosthodontics. He has honed his craft through attention to detail and caring for his patients.
Dr. Hop began his career with a Doctor of Dental Surgery degree with honors from the University of Michigan and a General Practice Residency Program at Sinai Hospital in Detroit, Michigan. He also earned a Master's Degree in Prosthodontics from the University of Michigan.
The Midwest wasn't the only place he practiced his skills. After earning his Master's Degree in Prosthodontics, he traveled "Down Under" to serve on the dental faculty of the University of Western Australia. He and his wife, a prosthodontist as well, also established a practice in the Netherlands prior to joining the team at Crabtree Valley Dental.
Dr. Joy Dhawan, D.M.D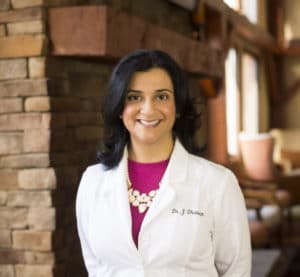 Dr. Joy has been practicing general and family dentistry for over a decade, specializing in cosmetic cases, sedation dentistry, and complete comprehensive care. Beyond her incredible skills, Dr. Joy fits the "Servant Leadership" vision of the practice to a "T". She's committed to making every patient feel like an extension of the family and that all of their needs are met.
Dr. Joy's career has kept her along the East Coast. She grew up in Connecticut and attended the University of Florida, where she graduated cum laude with her bachelor's degree. The University of Pittsburgh School of Dentistry was the next stop, where she earned her DMD. Besides her specialties, Dr. Joy is providing free video consultations through our new Smile Virtual program. You can read more about the program HERE.
She's happy to call Raleigh home now and has become a big NC State Wolfpack fan! In her free time, Dr. Joy enjoys reading books on various subjects, loves cooking, DIY projects, exploring North Carolina, and spending time with friends and family.
Come Visit One Of Our Dentists
Whatever you may need to make your smile look its best, one of our dentists is here to help! Give us a call at 919-985-7300 or click HERE to schedule your appointment today!