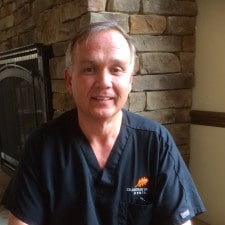 When we started Crabtree Valley Dental, our goal was to create an exceptional team with a true servant mentality that has an attitude of gratitude, is enthusiastic, and self motivated as we perform our duties for a greater cause.  For this reason, every single dentist, hygienist, dental assistant and team member has been chosen for a very special quality to be a part of our team.
Please meet Dr. Mark Valentinas.  Dr. Valentinas has been in private practice for over 30 years. He and his wife Lori, along with their daughters Tori who lives in Greensboro and Lexi who attends High Point University, have relocated to the area.
Dr. Valentinas graduated Cum Laude from Illinois Benedictine College in 1977.   He graduated from Loyola Dental School in 1981. He is a member of the Chicago Dental Society, Illinois State Dental Society and the American Dental Association. Mark was a member of the Naperville District 203 Medical Advisory Board. He is a 1996 graduate of the Perio Institute for Cosmetic and Reconstructive Perio Surgery. Mark is a graduate of the Misch Implant Institute – Surgical and Prosthetic Program. He is an active member of the International Congress of Oral Implantologists (I.C.O.I.). He is also a member of American College of Oral Implantology and has attended numerous courses in order to stay current in all aspects of dentistry.
Mark enjoys spending time with his family, golfing, gardening and cooking. His goal is to provide the best possible dental care to his patients, building trust and confidence in a friendly, caring environment.
Please call 919-985-7300 today to make your appointment with Dr. Valentinas.
See all Dentists & Team