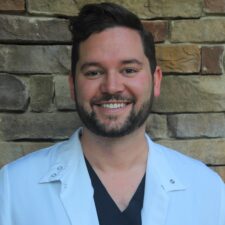 Dr. Wayand hails from the nearby city of Cary, NC. As the firstborn of seven siblings, Dr. Wayand brings an inherent experience in caring for others. Dr. Wayand received his Bachelor of Science degree in Biological Sciences from North Carolina State University and continued his career in higher education at the Dental College of Georgia in Augusta, GA. Since then, Dr. Wayand has lived in Atlanta, Philadelphia, and Richmond, and now is happy to be home.
Dr. Wayand enjoys taking a thoughtfully planned and comprehensive approach to dentistry. His favorite skills to utilize at the office are aesthetic cases where he can create a brighter, more aesthetically pleasing smile; as well as taking care of any large painful infections by endodontic procedures known more commonly as root canal therapy.
When he's not in the office, Dr. Wayand loves to go hiking with his black Labrador Murph or cooking up a new recipe. He is the happiest exploring the foodie scene in the RTP area since he has an avid interest in trying all types of cuisine. He also has a passion for photography and painting, which were the two outlets that led him to explore his creative side through dentistry.
Dr. Wayand utilizes this creativity in meeting each patient's individual needs through his robust experience of team leadership and "patient first" mentality. Please feel free to come by and get to know how he can be of service to you!
See all Dentists & Team