Patient Feedback
"FA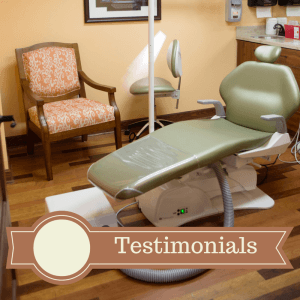 NTASTIC! I can't say enough about the staff. The dentist isn't my favorite place, but they were so welcoming, so thorough, professional, warm, energetic.. (Even at my 7am appointment! Haha.) Dr. Verga was so sweet and Ashley was awesome and explained EVERYTHING to me. I will recommend to any and every one! They are terrific."
~Heather G.

"Words cannot express the professionalism and friendliness of this awesome practice! Dr. Valentinas was beyond helpful and treated you like family, not a number! I would recommend this practice to anyone!"
~ Luis C.
"Fantastic people, very professional. Dr. Knowles took such great care of my 4 year old son who had to get a cavity filled. She put him at ease immediately!"
~ Katie U.
"From the moment you call, you will feel welcomed! We walked in, my mother and I, for our initial visits, this was a new dentist/office for both of us and what an AMAZING experience. Many people have high anxiety walking into any dental office, Crabtree will instantly set your mind at ease.  You walk into a Zen-like ski lodge and are greeted at the front desk by a friendly and professional associate who is wonderfully helpful.  Sit in one of their cozy seats and fill out your paperwork, just moments later you are escorted by one of their many Dental Hygienists to start your treatment.  Now here is where it got even more impressive!  I was so amazed at how thorough she was, full health history, additional specifics on dental health, measuring bone length on every tooth, x-rays, she even took my blood pressure!  Originally I thought it was because I had not been to the dentist in a bit or because I have braces, but my mother, meeting with and entirely different hygienist, had the same incredibly detailed and thorough experience! After all of the health history she began the cleaning and she worked hard, having to go around every bracket on each tooth due to the braces. Once complete I met with the dentist, again so incredibly impressed she offered to speak with my Orthodontist in NY to develop a cohesive treatment plan while in braces. She thoroughly examined everything including doing an oral cancer screening, checking for any unusual lumps or bumps and noting any unusual dry spots on my skin to watch. I have never, ever had such a thorough and pleasant experience at the dentist. Pleasant and Dentist just did not belong in the same sentence…until now. I would HIGHLY RECCOMEND CRABTREE VALLEY DENTAL!  Wow, just WOW! Thank you all so very much!"
~ Laura P.